Often, teens want to make money without the commitment of a part-time job that may require them to work more hours than they can handle while also attending school and keeping up with homework.  Or, they may want to work for themselves, doing what they love or participating in sports, doing schoolwork, and searching for scholarships.  There are many reasons why a teen may not want a traditional part-time job as a cashier or a fast food employee.
Historically, these types of kids would rely on babysitting or lawn mowing jobs.  If they were particularly resourceful, they may try to start their own Etsy store.  However, the time to start an Etsy store, market it, create products, maintain customer relations, and ship out items can be intense.  Many teens don't have time for that.
Luckily, teens can now use the power of social media to grow their own business and make money quickly on the timeline they set.
Selling What People Want on Facebook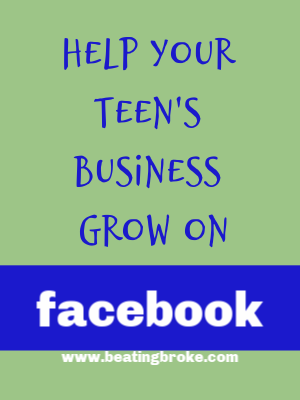 For instance, a young woman in our homeschool group needed to raise $2,000 for an upcoming mission trip she wanted to attend.  She offered to make cinnamon rolls ($20 for a 9×13 pan) and fudge ($8/lb.) for Valentine's Day.  She shared on her own Facebook page, and her mom shared on her Facebook page.  Their family and friends quickly responded by placing orders over the next week.  Within two weeks, she had made the money that she needed, and she had happy customers who had homemade sweet treats for Valentine's Day.
Another teen in our group makes balloon animals.  She offered to make balloon flamingos attached to a container of chocolate for Valentine's Day for $8.  She got over 25 orders and made a nice profit.
Recently, her mom set up a Facebook business page for her daughter to promote her business.  This young lady, who is still not even in high school, routinely is hired to make balloons at children's birthday parties.  Now she has a page to promote her work by showing the balloon styles she can make and showing examples of what she does at parties.  This job can grow into a nice part-time income, especially when she is in high school and college.
Business Can Jump From Facebook to Friends' Friends
While Facebook may be a great way for teens to start their business, it also gives them much needed exposure.  For instance, when the young lady above is working at a birthday party for a friend her mom has on Facebook, other moms at the party will ask about her services.  These women have no connection to her or her mom, but the magic of word-of-mouth referrals has begun.  Between Facebook and word-of-mouth referrals, she will likely keep very busy.
We've all heard the stories of teens who become YouTube celebrities and make thousands of dollars.  That likely won't happen with the majority of kids.
However, thanks to social media, your child can grow a nice part-time business, especially if they advertise a product or skill that people want to their and their parents' Facebook page, where people already know and trust them.
Do you have an entrepreneurial teenager?  If so, how do you help support their endeavors?  How do they usually find their clients?
Melissa is a writer and virtual assistant. She earned her Master's from Southern Illinois University, and her Bachelor's in English from the University of Michigan. When she's not working, you can find her homeschooling her kids, reading a good book, or cooking. She resides in New York, where she loves the natural beauty of the area.