My husband and I had a feeling the virus would cause a shut down (though we had no idea that things would get as intense as they currently are).   So, starting in early February, we slowly added items to our pantry as we could afford them.  Yet, I remember the sense of panic I felt when I went into a grocery store one Thursday in March and saw empty shelves.  Even though our pantry wasn't stocked enough for not going to the store, it was likely more stocked than other people's, but I still panicked.  What if I can't feed my family!  Thanks to this experience, there are several reasons why I'll always keep a full pantry now.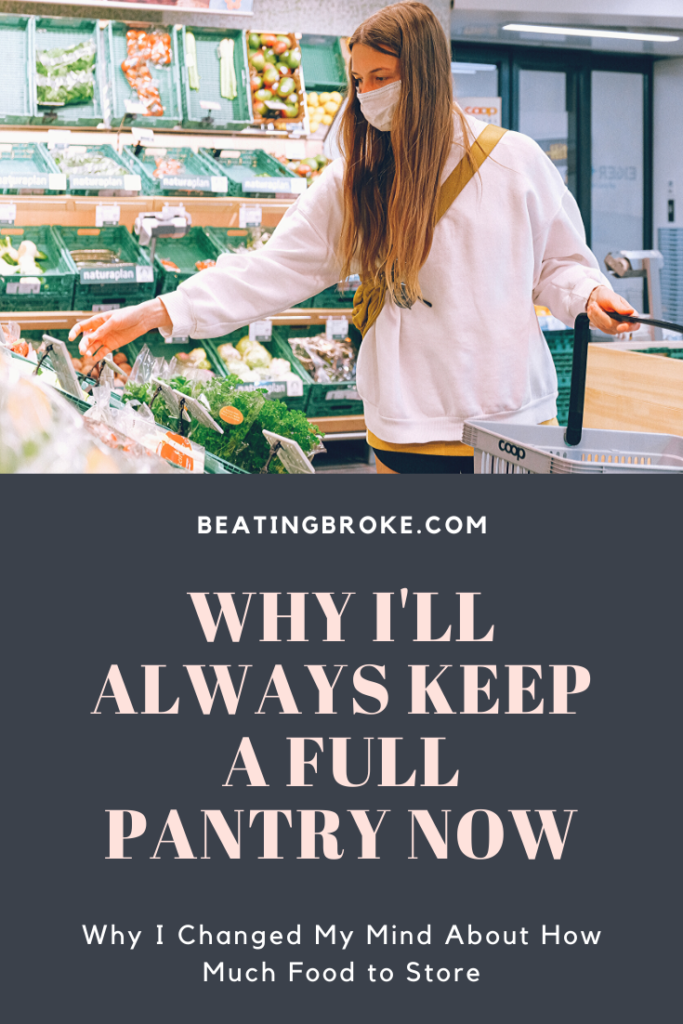 Our Pantry Experience
Throughout our marriage, my husband and I have tried to keep a fairly decent pantry.  I just find it reassuring to know that if something happens, we have enough food for about two weeks.  However, I never wanted to keep more than that because I felt it was wastefully, and in my mind, I always thought, when would we ever need that much food?  After all, we don't live in an area prone to any natural disasters.  But I was wrong.
Why I'll Always Keep a Full Pantry Now
Sure, we are living in unprecedented times, but that just goes to prove that anything can happen.  I have learned this lesson, and I'm confident many other Americans have, too.
Why It's Important to Keep a Full Pantry
There are several reasons why I'll always keep a full pantry now.
Emergency Fund Money Can't Buy
We all know that it's wise to have at minimum a $1,000 emergency fund, but ideally an emergency fund of three to six months of living expenses.  However, a full pantry can also serve as its own emergency fund.
During the initial days of the virus, even if you went to the grocery store, there wasn't much food available.  The shelves were empty.  (This is probably the first time for many of us to see the stores like this.)  Even though people had money to buy groceries, there simply weren't groceries available to buy!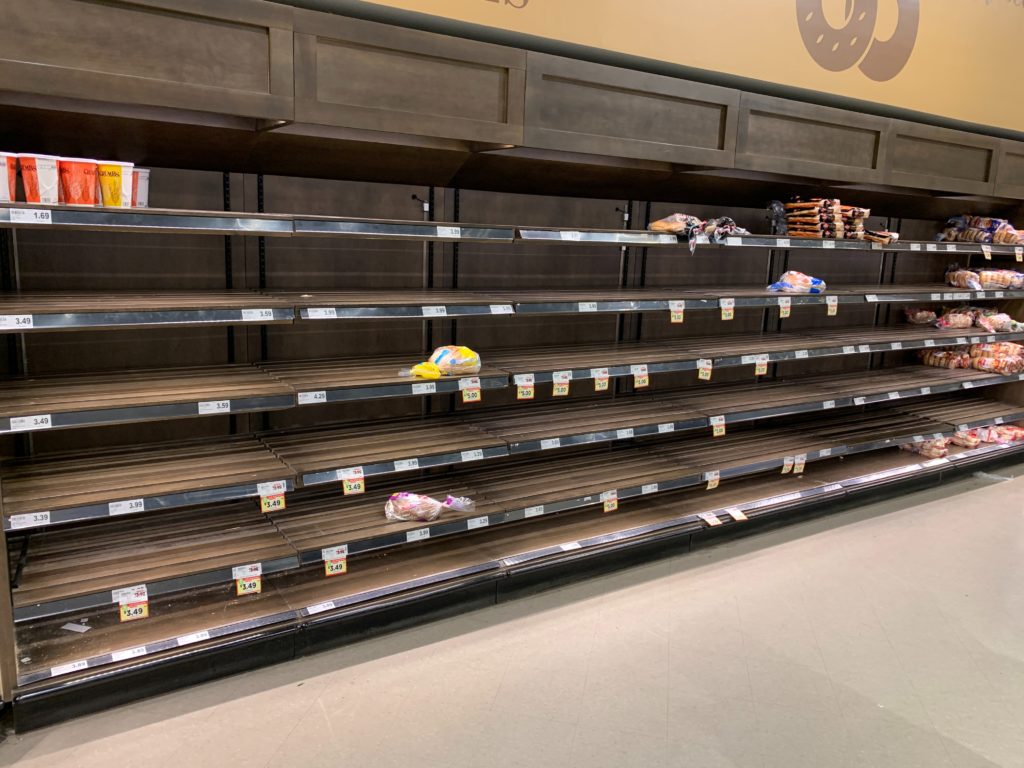 Although our pantry wasn't as stocked as it should be, I was very thankful that we had our own food emergency fund that got us through the first couple of weeks when groceries were in short supply.
Stock Up at the Lowest Prices
When we're not in times of crisis as we are now, having a full pantry allows you to stock up on groceries at the lowest prices.  Since our family has a number of food intolerances, we can't eat the way typical Americans do.  We have to buy specialized foods that don't contain a lot of preservatives, chemicals, gluten, or dairy.
I was able to keep our grocery bill lower by stocking up on our favorite items whenever they went on sale.  I would buy enough for the next six to eight weeks, which would be enough to last until the next sale.
Now that the virus is here, I'm no longer going to the grocery store but instead relying on pick up.  I can't bargain hunt at several different stores for our favorite items now that those foods are running low in our pantry.
I've immediately noticed a several hundred dollar a month spike in our grocery bill.  This isn't because we're buying so much more but because my pantry is no longer stocked with items I bought on sale.  Instead, I have to buy them at full price.
Easier Meal Planning
A full pantry makes meal planning so much easier!  You can typically make a week or two worth of meals just with items that you already have in your house.  There's no need to run to the store for an item or two that you're missing to complete the recipe.  If you really can't make one particular recipe without a certain ingredient, you have enough food to give you flexibility to choose a different recipe that you do have all the ingredients for.
Likewise, if you live in an area prone to winter storms or other challenging weather, it's nice to have food available until you can get to the store again.
How to Avoid Waste in Your Pantry
I've explained why I'll always keep a full pantry now, but with a full pantry comes responsibility.  If you don't carefully build and use your pantry items, you could end up just wasting money by letting items go unused before their expiration dates.  Here's how to care for your pantry so nothing goes to waste.
Mark and Order by Expiration Dates
Whenever I bring items into my pantry, I take a Sharpie pen and mark the expiration date in large print on the front and side of the item.  Then, I put the items on the shelf based on expiration date.  The oldest items come to the front, and the newest items go to the back.
Every month or so, I routinely check to see if any of the items need to be used up in the next month or two.  If so, I put them in a separate area of my pantry and focus on finding recipes for those items.
Only Buy Food You'll Actually Eat
Most importantly, when building your pantry, only buy foods that you actually like.  I know a lot of people keep Spam and canned vegetables in their pantry because they both last a long time and are shelf stable.  But there is no Spam or canned veggies in my pantry because no one in my family likes them.
I only buy foods that I know we will like and eat.  That's the biggest secret to avoiding waste.
Final Thoughts
I don't know about all Americans, but the virus is one of the major reasons why I'll always keep a full pantry now.  This situation has proven to me how important a well-stocked pantry is.  You truly never know what the future will bring.
I used to have a pantry challenge once or twice a year and try to completely eat down my pantry before buying new.  However, I don't think I'll ever do that again.  Having a well-stocked pantry all the time is much too important.
Melissa is a writer and virtual assistant. She earned her Master's from Southern Illinois University, and her Bachelor's in English from the University of Michigan. When she's not working, you can find her homeschooling her kids, reading a good book, or cooking. She resides in New York, where she loves the natural beauty of the area.