My husband and I have been trying to garden for a year now.  I say trying because we recently relocated to Tucson, Arizona, and gardening here has a STEEP learning curve.  However, it's something we both enjoy, so we've kept at it, and we're finally starting to see some rewards. Due to our gardening failures while learning to garden in a new climate, we're currently paying about $25 a pound for vegetables, but I'm okay with that because I know this hobby will likely pay for itself eventually.
Those Gardening Expenses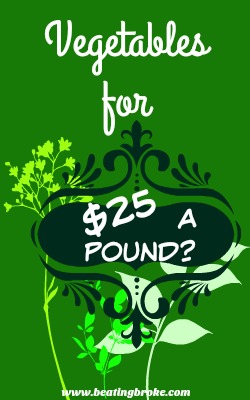 Starting our garden has not been cheap.  We had to create three garden beds, which included the dirt, the pavers for the sides (they're slightly raised garden beds), and the soil amendment.
We planted in October when the temperatures finally dropped into the 80s, but we planted the wrong vegetables for the season, and we planted in a shady spot when we should have planted in full sun.
All we ended up with last winter was one kale, one Swiss chard, and two lettuce plants.
In the spring, we planted tomatoes that were just starting to blossom when the summer hit with 100+ degree days and scorching sun.  We covered the tomato plants with a homemade sun shade, but we only got 6 cherry tomatoes.  All summer long they didn't even flower.
Next, we amended the soil further and planted watermelon and cantaloupe starts.  Every time a baby watermelon developed, one of the many birds in our yard ate it.  This continued until September when the birds finally went away.  Since then, we've gotten 4 watermelons.
Now, it's fall, and we are finally getting some produce.  We have baby bok choy that are growing strong, 4 Swiss chard plants, and 8 green pepper plants that have more than 20 peppers on them in various states of growth.
Hopefully our costs will drop or moderate as we learn more about how to garden in the desert.  However, so far, we've easily spent $200 for the few veggies we've been able to harvest.
Sticking It Out Through the Learning Curve
For someone like me who doesn't like to spend money frivolously, these gardening expenses bother me.  But there are two reasons we keep trying to garden:
My husband really enjoys it.  I think my husband has discovered his inner farmer.  He loves spending weekends outdoors, puttering in the garden.  Every evening, he comes home from work and waters and takes care of the garden.  It's a great hobby for him.
The costs should equalize–eventually.  As we learn more about gardening here, we should be able to produce more vegetables.  We won't have to create the raised beds again.  Our only expenses going forward will be soil amendment each season (so necessary with our desert soil), seeds, and water.  The longer we garden, the lower our costs should be.
Even though it doesn't feel like it now, gardening will eventually be a hobby that at least costs us only a small amount out of pocket or that pays for itself.
Do you garden?  How steep was your learning curve?  Do you find that the garden pays for itself eventually?
Melissa is a writer and virtual assistant. She earned her Master's from Southern Illinois University, and her Bachelor's in English from the University of Michigan. When she's not working, you can find her homeschooling her kids, reading a good book, or cooking. She resides in New York, where she loves the natural beauty of the area.