I've written about cigarettes and smoking in an offhanded way a few times here.  It doesn't take an accountant to tell you how expensive of a habit it can be.  I was smoking about a half pack a day.  Sometimes more, sometimes less.  Now, I save money with vaping, and I might just be saving my life too.
Why I Switched to Vaping
I was a smoker for almost 15 years.  Over those years, I've attempted to quit a number of times.  I tried the nicotine patches, Wellbutrin, and Chantix on several occasions.  All with varying levels of success, and then failure.  Of the bunch, Chantix was probably the most successful.  I think I managed 6 weeks without a cigarette that time.  But, you only take Chantix for about 6 weeks, and then the urge returned, my will power left, and it was back to it.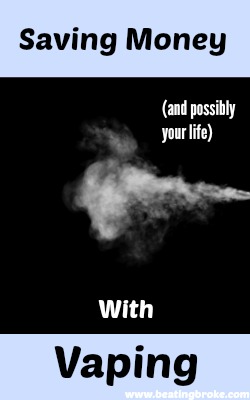 About a year or so, I started seeing, and reading, articles on Facebook and elsewhere about vaping.  For the uninitiated, vaping is the act of vaporizing a liquid called e-juice.  Technically, those e-cigarettes you see at the gas stations are vaporizers.  Whomever decided that naming them e-cigarettes should be ashamed of themselves though.  The e-juice that you vaporize is a mixture of Propylene Glycol and/or Vegetable Glycol, liquid nicotine, and various flavorings.  The mix is added to a tank that wicks the e-juice to a coil.  You press a button on your Mod (the device that holds the batteries and powers the coil) and the coil heats the e-juice to vaporization.  You inhale the vapor, exhale the vapor, and get your nicotine fix without a lot of the chemicals you've been getting in your cigarette smoke.
As I read more and more of those articles, a recurring theme started to show itself.  There were a lot of people who had started vaping and completely replaced their cigarette habit.  And most of the reports I had read seemed to indicate that vaping was a lot safer than smoking cigarettes.  I decided to give it a try.
Luckily, for me, I had a friend who I knew used a vaporizer, and I was able to ping him to get suggestions on equipment.  If I hadn't, I would have been completely lost, and probably struggled with the process a lot more.  I might have even failed again and written off vaping entirely.  I'm glad I had that help.
I ordered my equipment, and some e-juice to get me started, and on May 25th, 2015 I made the switch to vaping.  I've had a total of two cigarettes since then.  And they both tasted terrible.  It's been almost 6 months.  The urge to have a cigarette is almost entirely gone.  There are still a few triggers that spark the urge, but I can easily overcome those with a few quick vapes.  I'm no longer a smoker.
Saving Money with Vaping
In a way, I'm lucky that I live where I do.  A pack of cigarettes is only about $5 here.  In neighboring Minnesota, a pack will easily cost you $7.50.  There are places where it's more expensive. For comparison sake, I can buy a 15mL bottle of e-juice for somewhere between $7 and $25 (the premium juices are the top end of that range.  Average is closer to $10-12).  On an average day, I vape my way through about 3-5 mL.  So, that 15mL bottle lasts about 3 days.  I used to smoke a half pack of cigarettes a day.  The cost for e-juice is slightly less overall.  Equipment adds a bit more, averaged over time.  As the cost of cigarettes continues to go up, over time I'll save more.  That's assuming that taxes and such aren't applied to vaping products of course.  They might be.  If so, it might be a wash.
While some of this is unclear, what I've read so far indicates that vaping is a whole heck of a lot safer for you than cigarettes.  I fully expect, based on that, so see a lot of the savings from making the switch through my health and health care costs.  There's really no way to calculate those savings, but I believe they are pretty huge.  Those savings aren't just in financial terms either.  There's a very real possibility that my health will improve, my quality of life will improve, and I'll possibly have saved my life from some nasty cigarette related disease.  That's my kind of savings!
Over the last few months, I've found a few ways to apply some standard saving techniques to my vaping as well.  I've used coupons and sales to buy e-juice at bargain prices.  I've done the same for some of the equipment.  I've started making my own coils which reduces the cost of the coils by a great deal.  And I've found some nice subscription offers to get some good e-juice for a far cheaper price.
Ready to Save Money with Vaping too?
If you're looking for equipment, I fully recommend an open tank vaporizer set up.  All that means is that the tank is refillable unlike those disposable ones you find at the gas station.  Reusable and refillable is excellent.  I use the eleaf iStick 30w Mod.  I wish I had the eleaf iStick 100W TC.  It just adds some additional wattage and other options that I would have liked to have had.  Cost made it a bit of a stretch though.
As for the tank itself, my favorite right now is the Kanger Subtank Mini.  It will take premade coil units in a pinch, but also has the ability for you to build your own coils.  It's the best of both worlds.
e-Juices come in hundreds of different flavors.  What you need to know is that you can adjust your level of nicotine.  I started off with 18mg/mL and it was too much.  Someone who was a heavier smoker might want it that strong.  I've been using 12mg since, but recently started buying 6mg.  One of the coolest things I've found is Zamplebox.  It's a subscription box where you get sent a variety of 15mL bottles each month.  I'm subscribed to the 6 bottle package.  It's highly customizable, and allows for you to try some flavors that you might not have without. They offer a 3 bottle, 6 bottle, and 11 bottle subscription.  They're $19.99, $24.99, and $44.99 respectively.  At $24.99, my 6 bottles are just a hair over $4 each.  That's a pretty good deal.  If you're just beginning, I highly recommend you give them a try for a few months.

I started this blog to share what I know and what I was learning about personal finance. Along the way I've met and found many blogging friends. Please feel free to connect with me on the Beating Broke accounts: Twitter and Facebook.
You can also connect with me personally at Novelnaut, Thatedeguy, Shane Ede, and my personal Twitter.