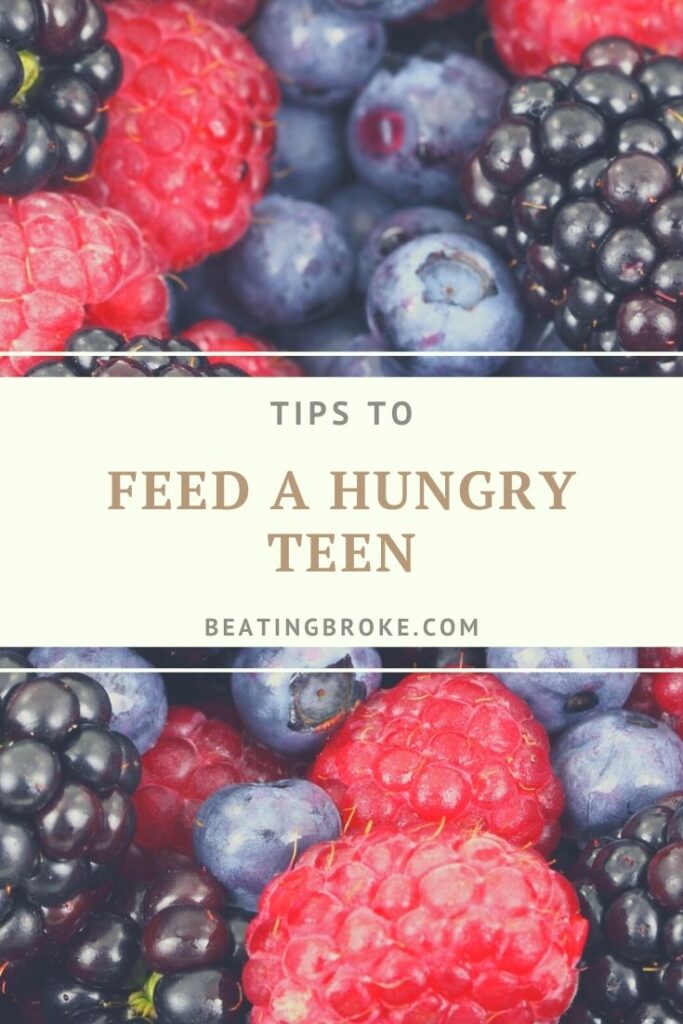 I've heard how expensive it is to feed a hungry teenager because they can eat everything in the house, and now I'm experiencing it firsthand.  My son isn't even a teen—just 12—but over the last six months, he's grown three inches and put on 20 pounds.  I used to think my husband could eat a lot, but our son can easily eat double or triple what his dad can eat.  Then an hour or two later, he'll tell us he's hungry again.  If you have a tween or teen, this may sound all too familiar.
However, we don't really have enough room to raise the grocery budget, so we're finding creative ways to keep him full.
Satisfying Foods to Feed a Hungry Teenager
There are several foods that can keep your hungry teen satisfied.
Protein
Meat can be expensive, but growing teens need protein to help them feel satiated.  We make sure to serve an ample serving of protein at breakfast and during every meal.  Some of our favorite breakfast proteins include homemade meat patties, eggs, or bacon.
For snacks, we like to make protein based snacks such as these Cacao Balls.  Between the pecans and protein powder, this snack keeps our teen full.
Healthy Carbs
Three staples in our teen's diet are white potatoes, sweet potatoes, and rice.  He often eats rice with breakfast, homemade baked French fries for lunch, and baked sweet potatoes for dinner.  These carbs help fill him up and round out his meal.  After he eats an entire plateful of food and is still hungry, we give him vegetables and one of these carbs.
Fruits
These are a great way to fill up hungry teens, especially in between meals.  I find that grapefruit is my best bet.  It's not that expensive, and it's large and watery, so it fills him up.  Other options include apples, pears, bananas, oranges, or whatever other fruit you have on hand.  I always buy a lot of fruit when doing my weekly shopping.
Veggies
Vegetables are another choice that aren't that expensive.  Organic carrots are .60 a pound at Costco.  We buy the ten pound bag and prepare them as raw carrot sticks or as roasted carrots.  We also frequently give the kids hummus to dip their veggies in.  Whenever a vegetable is on sale, I stock up and make extra knowing that our son will have multiple servings.
Healthy Fats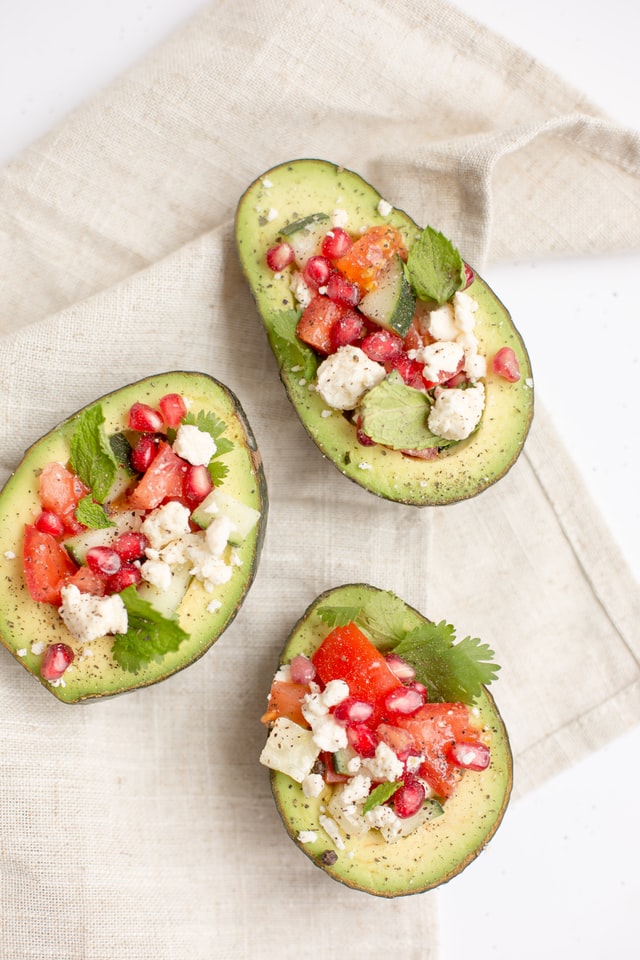 Healthy fat can definitely help fill up a teen.  We're big fans of avocado.  We often make guacamole to serve with our salads and soups.  We also serve it as a snack with organic corn chips.  Coconut oil, coconut cream, and coconut milk are also great ingredients to use in muffins, smoothies, and desserts to help satiate your child.  One of our go to favorites now is Chocolate Chia Pudding.  The chia and almond milk (or sub out for coconut milk) keep him full and satisfies his sweet tooth.
Foods to Avoid
Junk Food
I know, I know, teens love this stuff.  But the truth is, they can wolf down a bag of Cheetos or chips and then be hungry just a little later because they were eating empty calories.  We like to keep the junk food to a minimum and rely on healthy staples instead.  In the long run, when it comes to teen appetites, healthy food IS cheaper.  Plus, you're helping your child maintain a healthy lifestyle.
Fast Food
The stereotype has teen boys living off fast food.  While it is temporarily filling, if your child relies on this type of food frequently, he may be facing health issues down the road.
Final Thoughts
While teen's appetites do ramp up tremendously in the tween and teen years, feeding them healthy food without ruining the grocery budget is possible.  Our family has a number of food intolerances, so we can't rely on other staples that will help fill kids up like peanut butter and jelly sandwiches or cottage cheese, but those are also fairly nutritious options.
What are your favorite foods to help fill your growing teen's bottomless pit?  Please share.
Read More
Save on Groceries by Limiting Junk Food
3 Easy Ways to Get a Home Cooked Meal on the Table: Save Time and Money
Melissa is a writer and virtual assistant. She earned her Master's from Southern Illinois University, and her Bachelor's in English from the University of Michigan. When she's not working, you can find her homeschooling her kids, reading a good book, or cooking. She resides in New York, where she loves the natural beauty of the area.