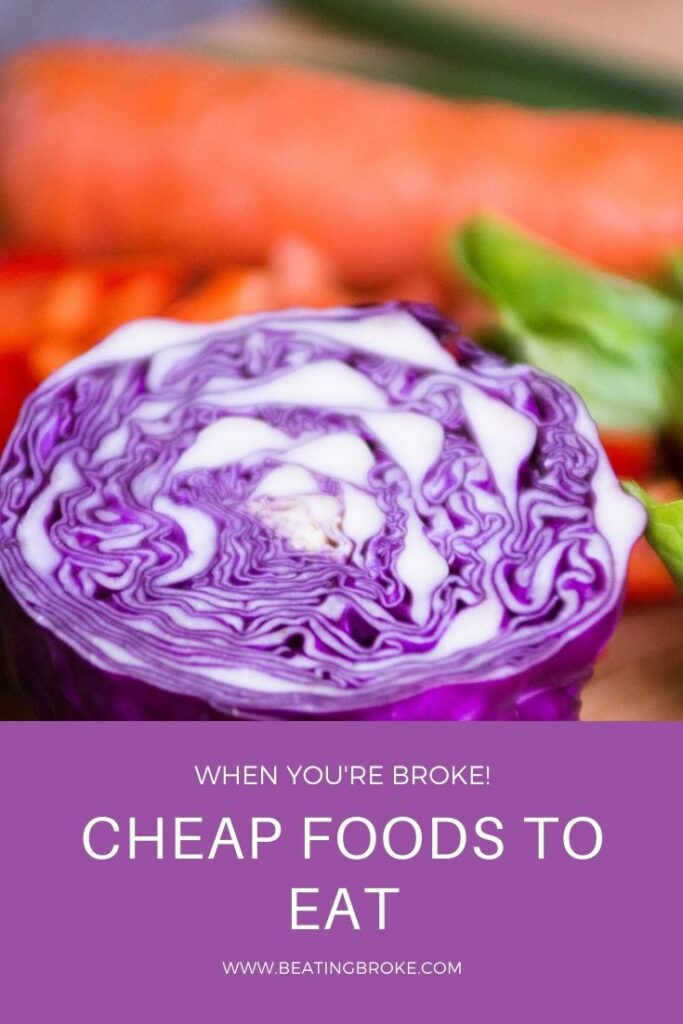 Whether it's nearly the end of the month and you're out of cash, or you've just lost your job or you had a large expense this month, we all have times when we have to nourish our bodies for as little money as possible.  Luckily, there are many cheap foods to buy when you're broke that are also nutrient power houses.
Cheap Foods to Buy When Broke
To get the most nutrition from limited money, you'll want to first focus on fruits and vegetables.
Vegetables
There are many basic vegetables to choose from:
Carrots
Carrots are so versatile!  You can eat them raw or use them in soups and stir frys.
Cabbage
One head of cabbage can stretch, and stretch, and stretch and be used many ways.  Just recently, our family of five had a head of cabbage to use.  The first night, we made cabbage beef soup; it fed us all, plus there were leftovers.  The second night, we had skillet kielbasa and cabbage, and again, there were leftovers.
You'll find plenty of recipes for cabbage.  Consider looking for recipes from other countries, too, as cabbage is a staple in the cuisine of many countries.
Fruits
While fruits like grapes, blueberries, and strawberries are delicious, they're not affordable when they're not in season.  Instead, focus on fruits that are affordable in any season.
Bananas
Bananas are quite filling and cheap.  You can eat them plain, or blend them up and use them as mock ice cream.
Apples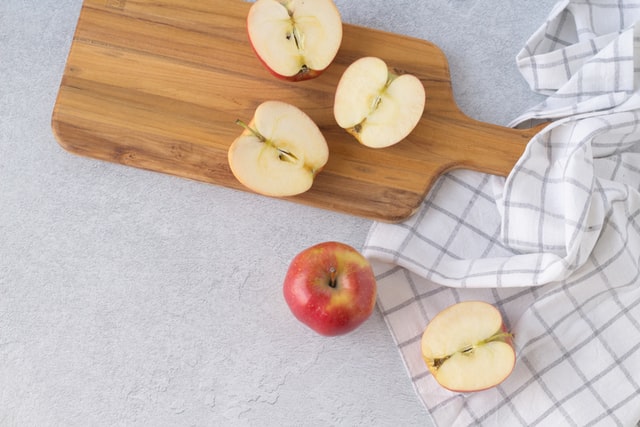 Apples are in season for quite a long time and can often be found for less than $1 a pound.  I like these because of their nutritional value and because they can be eaten as a fruit, or used in a meal, or baked for a dessert.
Starches
When you're on a budget, you need foods that are filling.  After fruits and vegetables, your next priority should be starches.
Potatoes
Potatoes are almost always a reasonably priced food.  Add them to meals to bulk up the content.  (One of our favorite breakfasts is diced, cooked potatoes mixed with a little cheese and scrambled eggs.)
Oatmeal
Oatmeal makes a great, filling breakfast for just pennies.  Stir in some protein powder or jam for a little extra flavor.
Oatmeal can also be used in muffins and ground up in a food processor and used as a substitute or supplement to flour in baked goods.
Flour
The price of flour can't be beat per pound.  Use it to make homemade breads, rolls, desserts, etc.  You can also use flour as a thickener to homemade sauces and gravies.
Rice
Rice is also versatile and can be used for a side dish, dessert, or breakfast.  When rice is combined with beans, it is the ultimate frugal meal.
Protein
Protein will help satiate you longer, stretching the length of time you feel full, so hopefully you'll need fewer in between snacks.
Dry Beans
A pound of dry beans costs between $1 and $2 per pound and can likely be used for several meals.  Use beans in soups, casseroles, and dips like hummus.  You can even use beans in desserts like black bean brownies.  (Don't knock it if you haven't tried it.  They're delicious!)
Chicken
Chicken is a great animal protein that can be frugal if you buy it on sale or on the bone.  We usually try to use our animal protein as a supplement to a meal, not the main focus of the meal.  Try dishes like fried rice with some shredded chicken or chicken pot pie to complement all of the vegetables in the meal.
Don't forget to take the bones and turn them into a homemade broth to use for future meals.  (We freeze our broth in ice cube trays for future use.)
Final Thoughts
If you're on a tight grocery budget, remember that if you choose the most frugal food options, you can still eat healthy, nutritious, and filling foods.
Read More
Save on Groceries by Limiting Junk Food
5 Strategies to Make Food at Home If You Hate Cooking
Save Money on the Grocery Budget by Reducing Food Waste
What Is The Cost Of Franchising A Chick-Fil-A Restaurant?
Melissa is a writer and virtual assistant. She earned her Master's from Southern Illinois University, and her Bachelor's in English from the University of Michigan. When she's not working, you can find her homeschooling her kids, reading a good book, or cooking. She resides in New York, where she loves the natural beauty of the area.