Is your budget tight?  Have you slashed, and slashed, and slashed expenses but still find that there is no money left at the end of the month?    Do you find that your kids are eating more and more while grocery prices are increasing?  Do you despair at the news of rising egg costs?  Do you find that your grocery dollars don't buy as much as they used to even a year ago?
Me, too.  I'm right there with you, but I'm here to tell you, don't lose hope.  Things will improve. Your children will grow, but so will your income.
You May Not Have Thought You Could Survive the Baby Years
After I had my third child, I was overwhelmed, to say the least.  I was sleep deprived and exhausted trying to work from home to make money to pay down our debt, while helping my 7 year old with his homework and projects and caring for two kids under two.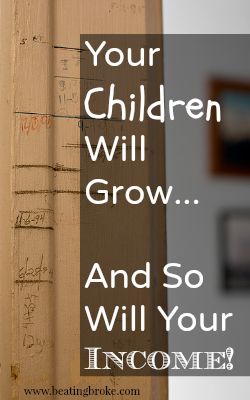 I thought I would never get a full night's sleep again.  I couldn't imagine a day without endless diaper changes.  I was in the thick of things.
But little by little, my kids gained independence.  First, one potty trained and then the next.  Hello diaper free days!
Then, one stopped using the stroller so I could move to a single stroller instead of a double one.  Then both grew up enough to not need the stroller.  Suddenly we could leave the house without a stroller or diaper bag.  Hello sweet freedom!
Gaining a bit of my life back was a gradual thing.  Each day now, my kids grow more and more independent and rely on me less for immediate needs.
Improving Your Finances Is a Gradual Process
I'm realizing, that even though my husband and I are in the thick of things financially, this time, too, shall pass.  Right now between braces, increased appetites, extracurricular activities, etc., we're spending a lot of money.  Our budget is T-I-G-H-T.  But, in 13 years or so, all of our kids will be out of the house and on their own.
Not only will our life be our own, but our money will, too.  Just like I couldn't imagine a full night's sleep when my kids were little, I can't imagine a month when our budget is not straining.  But I know it's coming.
Once the kids move out, there are so many ways expenses go down.  You can move into a smaller house, if you'd like.  A minivan won't be necessary anymore; a sedan will do just fine.  Two people eat much less than five, so groceries will be lower, too.
But it's not just the increased expenses that will improve your bottom line.  There are the financial increases.  You and your spouse will continue to get raises.  If one parent stays home with the kids now, that parent can go back to work.  Having two incomes when you're used to one can help you catch up financially, and quickly.
So, parents, don't despair.  Finances will get better, especially if you remain disciplined and don't upsize your life as your income increases and your expenses decrease.
Are you a parent of older or grown children?  If so, how have your finances changed over the years?  Are you a parent of young children?  Is your budget stretched, and stretched, and stretched?  Share your experiences!