I have some bad news for you. If you're waiting on someone to show up at your door ala Publisher's Clearinghouse and hand you a big cardboard check that will solve all of your financial problems it's not going to happen.  No one is going to save you from your financial woes.  No one is going to suddenly decide that you, and you alone, are worth pulling from the depths of your financial hole, pay all your bills and set you up for life.  No one but you.
In truth, I'm writing this post as much for me as I am for you.  I need to hear that message occasionally, just as you do.  It's nice to daydream about winning the lottery, or some sweepstakes and having some of your problems solved.  It really is.  But, if you, like me, find yourself lingering in those daydreams a little too much, too often, you need to hear those words.
You and you alone can be the savior of your finances.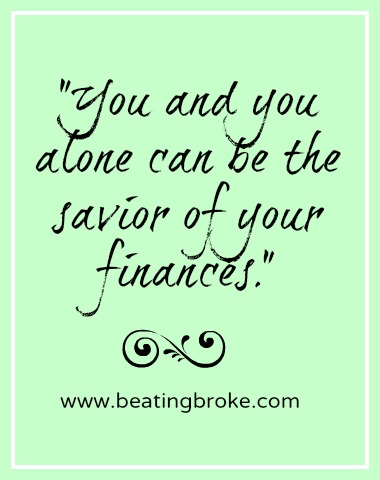 You (and I) are the best prepared, and the most willing (without fees), to take on the ratted nest of bills and accounts that we call our finances.  You (and I) are the most able to figure out how to sort out where our money is coming from and where it has gone.  You (and I) are the only ones that can drum up the willpower to make the changes necessary to begin telling our money where to go that it will be most helpful to our finances. No one else is going to do it for you.
No one but you.
If you (and I) don't do it, do you know what happens?  Nothing but the same.  Your paycheck comes in (maybe on time, maybe not), your paycheck goes out.  At the end of the month, maybe we ask "where did it all go?".  And if we do nothing about it, we'll never really know.  We'll just continue the pattern; wondering why we aren't paid more, and wondering why what we are paid never seems to be enough.
[Tweet "You and you alone can be the savior of your finances. #personalfinance #saveyourfinances"]
You can make a difference in your finances though.
Uniquely.  No one but you.
You can budget your money and tell it where it belongs.  You can know where your money is going, and control how it works for you.  If you actively manage your money, it can no longer control you.  Create a budget, track your income and spending, then take back your financial life.
Put your finances in order; be free.  Be debt free.  Be free to spend as you choose.  Be free to earn as you choose.
What are you doing today to break old financial habits and take control of your money?

I started this blog to share what I know and what I was learning about personal finance. Along the way I've met and found many blogging friends. Please feel free to connect with me on the Beating Broke accounts: Twitter and Facebook.
You can also connect with me personally at Novelnaut, Thatedeguy, Shane Ede, and my personal Twitter.