While the marketers would like us to think that Halloween should cost a fortune, it doesn't have to.  On average, Americans in 2013 planned to spend $75.03 on Halloween candy and costumes.  (My guess is those with more than two children will spend significantly more than this, especially if they choose to buy costumes.)
If you use some creativity and resourcefulness, you and your kids can have a fun Halloween without spending a fortune.  Here's a way to have a ghoulish Halloween without frightening your wallet.
Save Serious Money on Costumes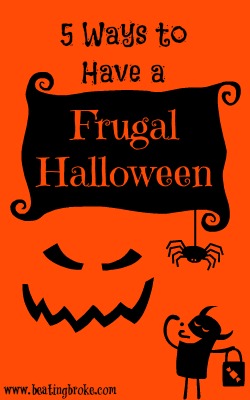 If you have the cash to spend, you can certainly find costumes at a discount by visiting second hand stores or perusing Craigslist.  However, if you don't have the money to spend or you simply choose not to, there are still plenty of adorable costumes for your kids:
Use costumes you have around the house.
If you have dress up clothes, those are fair game for a Halloween costume.  Another idea is to use your child's clothing from extracurricular activities.  Does your son have a little league uniform?  Great, he can be a baseball player.  Does your daughter take dance classes?  She can be a ballerina.  Does your child have a pair of skeleton pajamas?  They could easily double for her Halloween costume.
Marketers want us to think that a child should be able to pick any costume he or she would like for Halloween.  However, you can limit this to whatever type of costume the child can find around the house.
Create your own costume.
With a little creativity (and maybe some face paint), you can likely find a good costume with things you already have around the house.  An old white sheet makes for a great ghost costume and your child's clothes along with face paint can help create an adorable hobo.  With the help of Pinterest, you'll find plenty of costume ideas you can make at little to no cost using items around the house.
Have a costume swap.
If you have old costumes that the kids have outgrown or no longer want, why not get together a few of your friends and have a costume swap.  You may leave with a new-to-him costume for your child, and you will have decluttered your home of a few costumes you'll never use again in the process.
Save on Candy
Reuse candy.
Now, before you get upset with the wording "reuse candy" hear me out.  Buy a bag or two of candy to give to the trick or treaters.   If you have young children, take them early in the night.  When you get home, go through the candy that your kids don't like.  (As a kid, I hated any candy bars that had nuts in them.)  This candy will likely go in your own mouth if the kids won't eat it.  Instead, put it in your candy bowl and give it to the trick or treaters at your door.
Turn off the light when the candy is out.
I know some people who live in subdivisions popular with trick or treaters.  These people will buy five, six, seven bags of candy.  That adds up fast!  Instead, buy whatever amount of candy your budget allows.  When you run out, turn off the outside light, turn off the lights in the front of the house, and go settle in to watch a movie or read a good book in the back of the house.  Don't feel pressured to buy more candy than you comfortably can financially.
What are your favorite tricks to save on Halloween?
Melissa is a writer and virtual assistant. She earned her Master's from Southern Illinois University, and her Bachelor's in English from the University of Michigan. When she's not working, you can find her homeschooling her kids, reading a good book, or cooking. She resides in New York, where she loves the natural beauty of the area.