"Do you really think you should be voluntarily putting money into your retirement account?  It just seems like there are so many other things you could be using the money for right now.  Why don't you wait to contribute to your retirement until you get more financially stable?"
Recently, I was lamenting our financial situation to a good friend.  I just had a dental procedure at a periodontist, I was just told my 6 year old has 8 cavities (that's another story) that will cost $400 out of pocket to fill, and that my 10.5 year old will need braces to the tune of $5,000 or so.
Add on top of that the fact that our car has 150,000 miles on it, and we refuse to borrow for a new one, and well, I'm looking at a lot of financial stress.
Still, these expenses don't have to be paid immediately.  I'm saving money every month for a new-to-us car when our old one finally gives out.  I may be able to wait a bit to get my son braces.
I just wanted to vent a bit to my friend and express my frustration.
I was really surprised by her answer.  She simply couldn't understand why we would contribute to our retirement when we have so many impending expenses.
Yet, as Tracy Chapman sings, "If not now, then when?"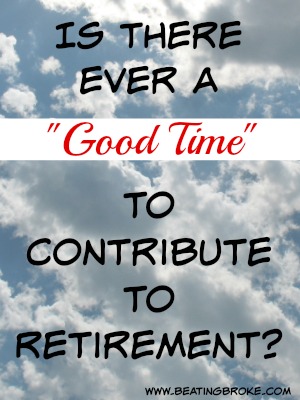 There's no good time to save for retirement.
You could always use the money for something else.
When my husband and I were newly married 14 years ago, I made a little over $30,000 a year.  We lived in the suburbs of Chicago, which wasn't cheap.  My husband was a graduate student and didn't work.  We were flat out broke.
And my employer had a mandatory rule that 8% of my gross income would go to my retirement savings.
I HATED that rule.  There were so many other things that I could have used that money for, but I had no choice.
Eleven years later, when I left the job and walked away with 11 years of retirement savings at 8% of my gross salary plus an equal match by my employer, I was ecstatic that I was forced to save for retirement.
Now, my husband is working for an employer who has the same rule, and we're happy that 8% of his gross salary goes to his retirement account.
We've learned our lesson so well, in fact, we are also contributing to our Roth IRA even though money right now is T-I-G-H-T.
But really, for most Americans, money is almost always tight.
I would rather scrimp and save now, while we still have many working years left before retirement than scrimp and save during retirement, constantly worrying if I had enough money to last me until the end of my life.
So, no, my well-intentioned friend, I don't think I should stop contributing to my retirement.  In fact, there's no better time than now to save for retirement.
If not now, then when?
Do you continue to contribute to your retirement when facing large expenses, or do you wait to contribute until your finances improve?
Melissa is a writer and virtual assistant. She earned her Master's from Southern Illinois University, and her Bachelor's in English from the University of Michigan. When she's not working, you can find her homeschooling her kids, reading a good book, or cooking. She resides in New York, where she loves the natural beauty of the area.