Valentine's Day is typically an adult holiday, but kids like to get in on the action by exchanging Valentine's Day cards and candy with friends.  As their parent, you can also make Valentine's Day a special holiday for kids.  Best of all, having a fun, memorable Valentine's Day doesn't have to cost a lot with these strategies.
Make Valentine's Day Food
There is so much fun you could have with this one!  For a sophisticated experience, you could melt chocolate and let your kids enjoy chocolate fondue.  Even better if you have the melting pot and metal skewers.  They'll have fun dipping soft bread and fruits in the chocolate.
Another option is to make Valentine's Day food.  One year, the kids and I made a heart-shaped cake.  Other ideas might be making heart-shaped pancakes or cookies.  Be creative, and with the help of Pinterest, you won't be lacking for ideas.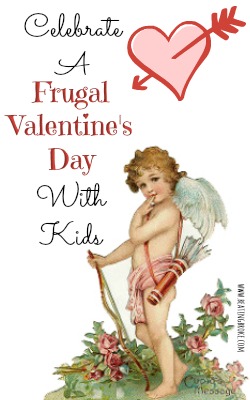 Make Valentine's Day Decorations
A few days before Valentine's Day, prepare your house.  Cut out hearts from construction paper and string them together to make garland.  Drape them around your mantle, your windows, or your door way.
Another simple idea is to get gel clings at the 99 Cent Store or the discount section of Target and decorate the windows with those.  Or, take pink, white, and red pieces of tissue paper and cut them out in heart shapes to tape to your window.
Pamper Your Girls
If you have younger girls, they'll love getting a spa-like experience from mom.  Paint their toenails and their fingernails.  Do their hair in a pretty, elaborate style.  Go all out.  They'll definitely remember the day.
Watch a Movie Together
There are plenty of cute Valentine's Day shows for kids.  Take the time to watch one together.  Some fun selections could be Lady and the Tramp, Beauty and the Beast, Shrek, Enchanted, WALL-E, Be My Valentine, Charlie Brown, or The Princess Bride.
Have a Fancy Dinner Together at Home
Too often we're busy, so meals simply become whatever we can throw together quickly.  For Valentine's Day, take the time to make something your kids love but don't get very often.  I used to love lasagna, but my mom thought it was too much work and would only make it for my birthday.  I would have been thrilled to get it for Valentine's Day.  Get your kids' input for a meal that they would love to have you prepare.  What better way to show your love for them?
Give Them a Little Goody Basket
You don't have to go overboard with the sweets on Valentine's Day, but give them a little goody bag of their favorite treats, like candy hearts, and Hershey's kisses.  Even more fun, turn the search for the goody bag into a scavenger hunt complete with clues.
Make Valentine's Day Crafts Together
Pinterest to the rescue again!  Some fun ideas include making Valentine's Day book-markers.  Simply get a paint sample strip in shades of red or pink and cut out a heart in each color.  Add a string at the top, and voila, you have a book marker.
Another cute idea is making a heart-shaped bird feeder to hang in the tree.
With a little creativity, you can design a Valentine's Day your children will love.  Even better, it doesn't have to cost a fortune!
What are your favorite ways to celebrate Valentine's Day with your kids?
Melissa is a writer and virtual assistant. She earned her Master's from Southern Illinois University, and her Bachelor's in English from the University of Michigan. When she's not working, you can find her homeschooling her kids, reading a good book, or cooking. She resides in New York, where she loves the natural beauty of the area.