If you've been reading here for very long, you'll know that I've been posting and discussing my Lending Club returns since the end of 2011.  For the first year or so, I updated with quarterly updates.   I didn't do that in 2014.  Part of the reason for that was that it was a busy year for me, and the time to put together a full post on that every quarter just wasn't always there.  The rest of the reason was that it was beginning to feel redundant to me, so I slowed them down a bit.  Now, I'll be doing the updates on a yearly basis (twice a year at most) to hopefully avoid that feeling of repeating myself in each one.  On to the Lending Club Returns 2014 update.
If you don't know what Lending Club is, the simple answer is that it's a peer-to-peer lending network where people like you and me can both borrow and lend to people like you and me.  Want a little better explanation?  Head over to my Lending Club page to read more.
Lending Club Adjusted NAR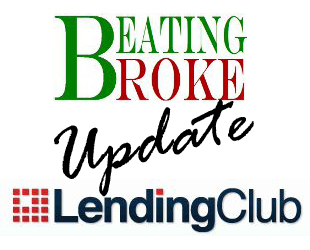 When we left 2013 behind, my NAR on my Lending Club account was sitting at 13.16%.  A full year of lending has passed, and, as I'll explain in just a bit, there's been some changes to the account.  At the end of 2014, my NAR is now showing at 9.61%.  Down from 2013's EOY number, but still a very healthy return on my investment.  For comparison's sake, the S&P 500 returned about 11% for 2014.  So, ultimately, I could be getting more of a return on my money in an S&P 500 index fund.  The biggest difference for me is that each of the loans I've invested in on Lending Club has a set rate of return.  The only thing that changes that rate of return is a default.  I'll talk about defaults in a minute, but the rate of default is pretty low.  Try and get a set rate of return on an index fund.  Your brokerage will laugh you out of the office.
Lending Club Defaults and Late Notes
As of the time of this writing, there are no late notes listed on my account.  In 2014, three notes went into a default status.  At the end of 2013, only one had gone into default.  It's a little bit higher rate, obviously, than it had been previously.  But, as my portfolio on Lending Club has grown, the odds of a default here and there also has grown.  The full picture looks pretty good still.  Since I began investing in Lending Club, I've invested in 118 loans.  Only 4 of those have gone into default.  That's a default rate of about 3.4%.  Flip that around, and if the trend holds, 96.6% of the loans I invest in will not default.  96.6% is a pretty good success rate if I do say so myself.
The 4 loans that have gone into default meant a total of $52.17 in written off principle.  Of that $52.17 that was written off, $10.74 has been recovered through collections for a total loss of principle of $41.43.  I'll go into further detail in the next section, but the interest I make on the non-default loans more than makes up for that lost principle.
Lending Club Income
The biggest reason that I invest in Lending Club is for the higher rates of return and the income that it provides to continue building my portfolio.  I bank the interest payments and then reinvest them into new loans when I've passed $25 in available funds.  Those interest payments, after fees, totaled $115.69 for 2014.  That's up from $109.88 in 2013.  Less of an increase than I expected, honestly, but still $115.69 that I didn't have before.  And it still leaves me with about $75 in income on the account after you account for the lost principle that was written off.  And that's $75 that I've reinvested into principle and am now earning interest on.  Given my current rate of return, I can expect that to increase by about $12 next year.
[Tweet "I invest in Lending Club for the higher rates of return and the income."]
Another of the metrics that I like to look at is the average amount of interest earned each month.  I reached point where the payments (principle+interest) each month exceeded $25, and I could make reinvestments each month, but the next benchmark I'd like to reach is to make $25 in interest each month to reinvest.  That's one new loan to invest in each month.  The average for 2014 was $9.64, so I still have a way to go, but it's increasing year over year.  It was $9.16 in 2013, $5.94 in 2012, and $1.91 in 2011.
I think the thing that I like the most about Lending Club is the income potential and the growth I've managed with my portfolio.  I haven't deposited any new money into the account since November of 2012.  Through active investing and reinvesting, my portfolio has increased by almost $200.   I think that's pretty good on deposits of just a hair over $700.
The Future of my Lending Club Portfolio
In the past, I've talked about changes I planned on making to my investing strategy in this section.  I'm pretty happy with my returns, and with the numbers that I've just shown you, and so there won't be any immediate large changes.  If the default rate jumps by a lot, there's a good chance that I might begin investing a bit more conservatively. But, if it holds steady, I see no real reason to do so.  My portfolio is pretty heavily weighted towards the B and C grade loans in any case.  And I don't know that moving to A grade loans would give me the return I'm looking for.  So, short term, there won't be any changes to my investing strategy.  I'll just continue to reinvest the payments and see what kind of growth I get in 2015.
Do you have any questions I can answer about my experience with Lending Club?  Other things related to peer-to-peer lending that you want to know?  Let me know in the comments below, or through the contact form linked in the bar on the left.
Want to open an Investment account with Lending Club?  Click here to start the process.

I started this blog to share what I know and what I was learning about personal finance. Along the way I've met and found many blogging friends. Please feel free to connect with me on the Beating Broke accounts: Twitter and Facebook.
You can also connect with me personally at Novelnaut, Thatedeguy, Shane Ede, and my personal Twitter.