Super Bowl 2013 is on February 3, only a week away.  If you're a football fan, you're probably counting down the days and planning your Super Bowl party.  Your whole day, indeed your whole weekend, may revolve around the Super Bowl.
However, if you're like me, you aren't a big football fan.  In fact, I have no idea which teams are even heading to the Super Bowl this year. (Ed. note: 49ers vs. Ravens)
Still, fan or not, the week before Super Bowl is the perfect time to save some money, and lots of it.  The Super Bowl is a national, cultural event, and many sales revolve around Super Bowl viewing "necessities."
Here are some things you may want to buy and stock up on while they're cheap during the week before Super Bowl: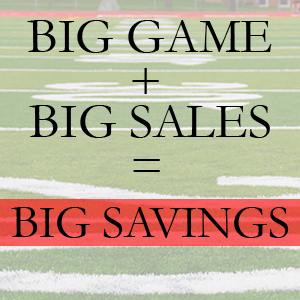 Televisions – If you're in need of a new television, you're likely to see the lowest prices now, the week before the Super Bowl.  The prices now are often even better than those on Black Friday.  Of course, if you don't need a tv, this isn't a good deal, but if you've been thinking about replacing yours, now is the time to do it.
Cable/satellite packages – If you don't yet have cable or you want to switch providers, now is the time.  Cable and satellite companies hope to snag new sports enthusiasts during the big game, and some cultural Super Bowl events, such as the notorious Lingerie Bowl, can only be seen on cable (as well as the much more benign Puppy Bowl).
NFL apparel – Get your favorite team's jersey at a significant discount this week.  Even Victoria's Secret gets in on this by offering discounted pink NFL gear.
Beverages – If you're a family of soda drinkers, don't buy your pop at full price.  Stock up during Super Bowl and buy enough to last you through the next big soda sale, which usually happens around Memorial Day.  Bottled water is also often on sale.  We only buy bottled water for our car trips when driving to conferences, but it's nice to buy it when it's at rock bottom price.
Snack foods – If you have a teenage boy or another member of the family who can't get enough of snacks like nachos, chips, and cheese curls, now is the time to buy them while they are cheap.  True, you may need to hide them from your snack monster so they're not devoured in a few days, but again, you can stock up and save for the next several months until they go on sale again around Memorial Day.
Don't forget that other condiments like ketchup, mustard, and salsa may also be on sale now.
Foods you can freeze – You'll also likely find chicken and ground beef on sale, as well as cheese.  Don't forget that you can freeze these items, so stock up and feed your family for the rest of the winter with meat that you got on sale.
Whether you're a Super Bowl fan or not, this week is the perfect week to stock up on some basics and buy some luxuries at a steep discount.
What is your favorite item to buy during Super Bowl sales?
Melissa is a writer and virtual assistant. She earned her Master's from Southern Illinois University, and her Bachelor's in English from the University of Michigan. When she's not working, you can find her homeschooling her kids, reading a good book, or cooking. She resides in New York, where she loves the natural beauty of the area.