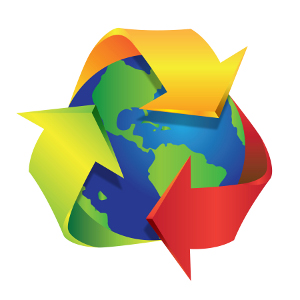 The green industry is great for the planet, but it's still an industry, and some argue an elitist one.  Switching to hybrids and shopping solely from Whole Foods are neither frugal nor often green options (if you've read The Omnivore's Dilemma by Michael Pollan, you'll know that Big Organic is a lie).
Concentrating wholly on frugality, however, can also be damaging both for our bodies and the planet.  Yes, the dollar menu is cheap, but it's a first-class ticket to heart disease and perpetuates the evils of urban farming.  For those of us looking for a happy medium, read on.
Support local farmers at your farmer's market.
Meat can be more expensive here, but most family farmers have healthier, happier animals than those in CAFOs (Concentrated Animal Feeding Operation), which means healthier final products.  Try also to buy whole chickens instead of just legs so you'll get more for your money.  Vegetables are often cheaper at these markets than at local grocery stores.  You'll save money and help boost your community's economy.
Cook your own meals. It's hard to do with our busy schedules, but the payoff is worth it, since you'll be saving money on produce you buy from the farmer's market and getting less packaging, which means less trash.  Since basic supplies like flour, sugar, salt, and such are cheap and go a long way, you'll find that you save money even by making your own pancakes in the morning rather than buying packaged ones from the store.  If you don't have time in the morning, make the batter and keep it in the fridge overnight.  Even the kids can toss a batch on the frying pan by themselves, saving you cents and time.
Cultivate your own garden.  Basic herbs like basil, rosemary, and thyme are low-maintenance and can be grown even on your apartment patio.  If you've got land, though, try your hand at tomatoes, garlic, onions, green onions, carrots, and the like.  It's better to spend your time with the earth than with cable TV, anyway (as long as you wear that sunscreen).  This brings us to our next point:
Get rid of your cable.  Most TV shows are online these days, anyway, and one HD cable can hook your laptop up to your TV.  Seeing as a monthly cable bill can cost anywhere from $30 to $70, you'll make up for the cable in two to four months, tops.
Stop going to see movies and renting them at Blockbuster.  There are plenty of movies on Netflix you can get for just over the price of one movie ticket a month.  You'll save on gas money, too.
Learn to sew and DIY.  Ripped your pants?  No need to go out and buy a new pair.  If you deem it irreparable, at least go to a thrift store first so as to limit waste.
Go easy on the spray cleaners.  Most of the things in spray cleaners are horrible for the water system and the environment in general, not to mention your own lungs.  Varying mixtures of vinegar, baking soda, lemon juice, and essential oils do the trick in most cases and will cost you less.
Use towels, not paper towels.  Americans have become obsessed with disposables.  Everything is disposable now.  Are we too good to use the same thing twice?  Throw a dish rag into the washer and use it again, and when it gets old, use it as a cleaning rag.  We've spoiled ourselves enough—isn't that why we're in a recession, anyway?
Photo Credit: http://www.sxc.hu/photo/1077158