While you may not want to think about it yet, the holidays are right around the corner.  The commercial machine is cranking into gear.  My local Costco already has rows upon rows of Christmas presents for kids and Christmas trees and wrapping paper. . .Soon, there will be endless Christmas ads on television for all the latest toys and electronics your kids will beg for.
Each year, Christmas seems to become more and more about spending money and over consuming.  If you've come to dread the holiday season and the gimmes that come with it, now is the time to plan a different type of holiday.  Now is the time to plan a giving holiday.  Make a plan now, before the holiday is in full swing.
You can take a two part approach to this.  Part one is to allow your children to have an opportunity to give.  Part two is to reduce your child's expectations for the gifts they will receive at Christmas.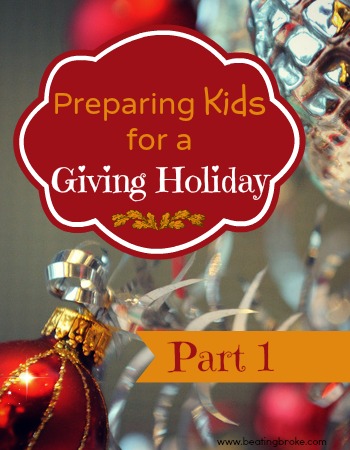 Today, we'll be talking about part one.
Strategies to Allow Your Children to Give at Christmas
While it's nice to get things for Christmas, giving is also nice.  Well before Christmas starts, sit down with your kids (if they are old enough) and discuss how you'd like to give of your time.  If they're still young, say under 5, you can just start a new tradition of giving of yourselves during the holidays.  You'll experience very little resistance from the little ones.
Put in time.  One way to give, especially if you're on a tight budget, is to give of your time.  You could volunteer to work in a soup kitchen or to help assemble thanksgiving meal baskets at your local church.  You could go through your closets and donate excess clothes or other items.
Give your money.  If you have more money than time, you can give your money to help make the holidays better for another family.  You could pick a name from a giving tree that pops up in December.  (The post office often has one as does Whole Foods and other grocery stores.)  Take your child with you to buy a present for the child in need.
Or, you could donate to a charitable organization like World Vision.  Look through the catalog and either choose to sponsor a child or to make a one-time contribution.  Let your child know how the money will be used and help him to realize how much more he has than the family of the child who will be receiving the money.
Another organization, Samaritan's Purse, has a giving project, Operation Christmas Child.  You fill a shoebox with simple toys and school materials for a needy child.  This is a nice project to do with your children, and you can give without spending a lot of money, if your money is tight.
If you want to get away from the consumer driven holiday season, know that you CAN have a different kind of holiday this year.  However, you'll need to start now and take the first step–teaching your children the importance of giving at the holidays.  Next time we'll talk about the next step, adjusting expectations.
What's your favorite way to teach your kids the importance of giving during the holidays?
Original photo credit: Theresa Thompson, on Flickr
Melissa is a writer and virtual assistant. She earned her Master's from Southern Illinois University, and her Bachelor's in English from the University of Michigan. When she's not working, you can find her homeschooling her kids, reading a good book, or cooking. She resides in New York, where she loves the natural beauty of the area.