Ah, summer.  A time of relaxation, heat, and. . .boredom?
Yep, boredom.  When I was a child, the big activity for the summer was to go to Vacation Bible School one week of the summer.  The rest of the time, well, my days stretched wide open before me.
I might read a good book, or run through the sprinkler, or eat a popsicle, or lay on the grass looking at the clouds floating by or go bike riding with my friend or play on the swing set or play with Barbies.
Those were the days of summer.
I loved every minute that I was out of school, but by mid-July, after the excitement of the 4th of July holiday wore off and I'd been on summer break for several weeks, I often found myself bored.  I mean b.o.r.e.d.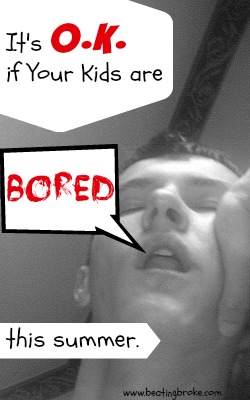 I was actually excited and ready to go back to school.
Do kids today feel that anymore?
The answer, typically, is no, but it's O.K. if your kids are bored this summer!
Summer Can Hit Your Wallet Hard
If you want to keep your kid busy all summer long, you can expect to spend quite a bit of money doing so.  I have a friend who is paying over $1,000 for her seven year old to attend summer day camp for a few weeks.  And that is just one child!
Of course, families with two working parents must find ways to make sure that their kids are cared for, so that is part of the reason why kids are overbooked.  But my friend whose paying for her daughter's summer camp is a stay-at-home mom.
Boredom Is Not a Bad Thing
However, if the parents are in a situation where they can let their kids get bored, i.e. one parent stays home to take care of the kids, boredom might not be such a bad thing.  Nancy Darling, a professor of Psychology at Oberlin College, states, "From a developmental perspective, kids have very little experience learning to find things to do FOR THEMSELVES.  They have been PASSIVE.  Adults shape their activities.  When they get to the point where they are too old for that—or there just aren't adults to do it—the kids are at a loss.  They might know what they like to do—or what they don't—but they have little experience figuring out how to make good things happen.  Boredom is okay" (Psychology Today).
Think about times when you were bored as a kid.  Those times obviously didn't last forever.  You found something to do.  You may have compromised and played a board game with your younger brother even though you really didn't like playing with him, but anything was better than boredom!  You may have written a story, or created a Lego invention, or made a new imaginary game.
Alyson Jones, who is a counselor, states, "Boredom is not the enemy to be conquered by action and another planned activity.  Boredom can be a vehicle to creative thinking, self-awareness, empathy and compassion.  When we are bored we are often alone with our thoughts—this is a great way for children to get to know themselves" (The Huffington Post).
If you have the flexibility in your schedule, why not give the kids some time to be bored this summer?  Your wallet will thank you, and someday your kids might, too.
What do your kids do for the summer?  Do you give them time to be bored or are they scheduled?
Melissa is a writer and virtual assistant. She earned her Master's from Southern Illinois University, and her Bachelor's in English from the University of Michigan. When she's not working, you can find her homeschooling her kids, reading a good book, or cooking. She resides in New York, where she loves the natural beauty of the area.