Let's be honest.  We're all a little bit irrational with money.
Think of the person who drives 5 minutes out of his way to buy ten gallons of gas that is 2 cents cheaper per gallon.  Was the additional .20 cents savings worth 5 minutes of his time?  No.
What about the person who buys clothes she had no need for just because they were on clearance 75% off and were such a great deal?  Is spending money for something you don't need ever a good deal?  This person just spent more than they would have if they hadn't run across the "bargain".
Stop Short Term Financial Thinking In Its Tracks:  Do The Math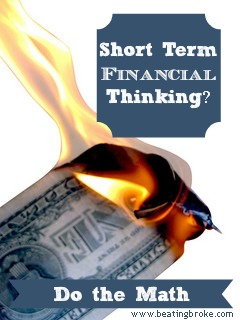 The best way to stop short term thinking in its tracks is to do the math.
Take the person who drove 5 minutes out of his way to save .20 cents on gas.  An easier way to see how worthless this endeavor was is to compute an hourly wage for his savings.  There are 12 five minute increments in an hour.  Twenty cents saved per 5 minute increment gives us an hourly wage of $2.40.  If you're always chasing the gas bargains, ask if it's worth $2.40 an hour.
Nope.
Of course, only you can decide when an endeavor to save money becomes worthwhile, but doing the math will help you decide.
A friend was recently asking me whether she should refinance.  She just refinanced a few years ago, and as part of the deal, she opened a high interest rate checking account that nets her about $200 in cash back a year.  If she refinances with another company, she'll lose the high interest rate checking account, which she didn't want to do.
However, she found a new company that offered a mortgage interest rate that is 1.5% lower than her current interest rate.  In addition, she would have no fees to pay to refinance.  We did the math and found out if she refinanced with the new company, she would save $700 in interest on her mortgage in one year.
Not refinancing to keep the high interest rate checking account was essentially costing her $500 a year, but in her short term thinking, all she could focus on was the "loss" of $200 a year in cash back.
Take the Emotions Out of Your Financial Decisions
Have you ever noticed that it's much easier to tell other people what they should do with their money rather than figure out what we ourselves should do with our money?  That's because we're not emotionally tied to someone else's decisions.
Too often our emotions muddy up our financial decisions.
If you're contemplating a major financial decision like buying a house or refinancing your home loan, first do the math.  Look at hard numbers to see which decision would benefit you most.  In my friend's case, refinancing is the clear winner.  Over the course of her 10 year home loan, she'll save $5,000 total by refinancing rather than keeping her current loan, even when factoring in the high interest rate checking account.  It's hard to argue with the numbers.
If you're still unsure, talk to friends about your decision.  Just make sure to talk to friends who are financially savvy, not those who are broke.  As Dave Ramsey says, "Broke people giving financial advice is like a shop teacher with missing fingers."  Take the advice from those who will steer you toward the right financial decision.
We're all guilty of irrational money decisions.  Recognizing this weakness and taking the time to do the math and seek other people's opinions can help each of us make smarter financial decisions.
What irrational money decisions have you made?
Original Image credit: Burning Money Isolated on White by Images_of_Money, on Flickr