Your parents provide for you as you grow up, but what happens when they ask you for money?  Should you give money to your parents?
The answer depends on both you and your parents.
When Parents Need Money for Younger Siblings
My friend, Joan, became friends with another girl, Leslie, in high school.  Leslie had an unstable home life and eventually moved in with Joan and her family.  When we all graduated high school, Leslie went to college for engineering and also worked full-time to support herself.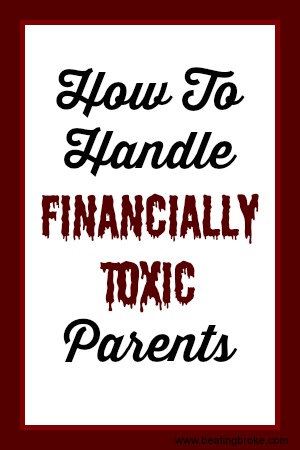 At regular intervals, Leslie's mom, who still had four younger children at home, called Leslie and asked her for money.  For years, Leslie gave money to her mom because she felt guilty.  After all, her stepdad had just left, and her mom had to provide for the younger kids.
When Parents Are Bad at Money Management
Now, I'm on the flip side and am old enough to have friends who have adult children.  One of those "friends" (and I use the term loosely), Heather, continually writes on Facebook about her money troubles.  These posts always appear as thinly veiled requests for money.
In the most recent post, Heather wrote about the financial troubles she and her husband have and went on to say that their 20  year old son, who is working two jobs and taking a full load of college classes, is giving them money to pay for their utilities and gas to and from work.
However, in that same week, Heather posted about going out to eat two different times and having a manicure and pedicure as well as getting her hair highlighted.
Say what?!
Should You Give Your Parents Money?
As an adult, if you find yourself in the awkward position of deciding whether or not to give your parents money, there are a few questions you should ask yourself:
Can you afford it?  Do you have the money to give your parents?  Can you loan them money without causing your own financial hardship?
Why do your parents need the money?  Are your parents in a truly tight financial spot because of unemployment, sickness or another issue?  Or, do they have a history of mismanaging money and now, like so many times before, they're in a bind?
Are they trying to change their situation?  If your parents are facing financial difficulties, are they taking steps to try to improve their situation?  Are they wisely cutting expenses and learning how to manage their money so they won't be in this position again?  You probably can't give them advice here because they likely won't listen, but you can recommend your favorite financial blogs or books to help them get a better handle on how to manage their money.
Should You Cut Your Parents Off?
If you do decide to lend your parents money, how often can you do so?  You should set boundaries for the limit of your generosity in the beginning.  Leslie, the girl I went to high school with, regularly gave her mother money for eight to ten years.  Then, as her younger siblings grew up and left home, Leslie saw that her mother often caused her own drama and financial woes.
She cut her mom off about 15 years ago, and now she rarely hears from her.
I don't know how long Heather's son will lend his parents money, but I hope it's not for too long.  There's no reason why a son should be financing his mother's highlights and pedicures when he himself is working two jobs to pay his way through college.
Have your parents ever asked to borrow money for you?  If so, how did you handle it?  
Are you a parent?  If so, have you ever asked to borrow money from your children?